I Love X, and Won't Vote for Y
Or
How If You Are a Liberal And Won't Vote for The Other Person You Are Dooming Progressiveism and the Country For Your Selfishness
Hello, my name is Matthew and I'm a Liberal. A passionate one, a committed one, and a long term one. I voted for John Kerry once, Obama twice, and in 2016 I will vote for literally whoever wins the Democratic nomination, up to and including a potato with a smiley face drawn on it in Sharpie.
Why, you ask? Do I not have any principals, anything I really stand on? Am I so blind or brainwashed or so much a sheep person (sheeperson) that I'll vote for anyone with a D after their name?
No. I have principals, and I have candidates that I prefer—and I have strong opinions on the candidates. I like a lot of Hilary, I'll be honest, but there is a culture of entitlement or inevitability about her I didn't like in 2008 and am not thrilled about now. While I believe she did nothing wrong with the email scandal, as has been consistently stated, I do think it shows a tone deafness toward what will look bad. I do not like that she doesn't look like she stands up to the established system except when it is calculated to be to her advantage.
I like a lot of Bernie Sanders and what he says, but there's also a lot about him I'm leery of. I think it's telling that he spent 30 years as the howling lunatic fringe calling for regulations, gay rights and marriage, campaign finance reform—and that he got none of it done. I think it is very telling that whenever each of those milestones was achieved it was because someone ELSE did it, someone who is capable of compromise and politicking and not sanctimonious adherence to blind ideological purity. I don't like that he comes off sounding like a liberal version of the tea party.
But I'll vote for either of them not because I am blind or priority-less, but because I have a very clear vision and very strong priorities. And my priority goes like this. This woman is 82 years old: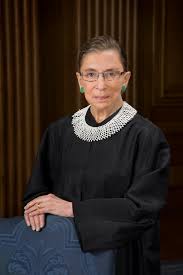 That's Ruth Bader Ginsburg, or as she is inexplicably known to young Supreme Court watchers, the Notorious RBG. While not perfect—she is fairly strongly against expanding the public domain in copyright, for example—she is a staunch defender of civil rights and progressive causes on the Supreme Court. A hardy soul who doesn't believe that the founders wanted a government limited to only the things they could think of at the time.
My other priority is this gregarious gentleman:
That's Antonin Scalia. Depending on who you ask he is either the OG in chief (Originalist Gangster), or Scalia is an Italian name meaning 'Prince of Darkness'. The leading right wing Justice who actually gets to write major conservative opinions (Alito is generally too junior, Thomas too angry), he is the driving force behind the Originalist/Textualist schools of Constitutional Interpretation. Name an issue before the Supreme Court, and he's dragging the right further to the right and writing opinions or dissents law students love to read because he's funny—until they start to get uncomfortable with how personal his attacks get on his colleagues. He's 79.
So what is my priority, that it comes down to those two people? Simple: They are old, old people are more likely to die, and when they die it means they have to be replaced.
By the next President of the United States of America. The next POTUS will probably get to replace at LEAST those two members of the SCOTUS—remember that in the U.S. the average life expectancy for males is 76 and for females is 81. Both Scalia and Ginsburg are pushing their actuarial odds.
And throw in to the mix that Anthony Kennedy is 79 as well, and Stephen Breyer is 77. Another liberal and another conservative pushing their life expectancy tables.
Simply put, that's my priority. At minimum I expect the next President gets two Supreme Court picks, and if there's a particularly cold winter or they all go snowing together and there is an avalanche or a nasty flu season hits Washington, they could get up to four.
Two Supreme Court nominees will fundamentally alter the makeup of the Supreme Court for years to come. Four would alter it for literally decades, because after the four oldest we get down to Thomas (67), Roberts (61), Alito (65), Sotomayor (61), and Kagan (55)—i.e. individuals who reasonably have 10 (for Thomas) to twenty or more years (the rest) left on the Supreme Court.
The court right now is effectively a 5-4 split, with Kennedy swinging either because he is more of an internationalist than the GOP as a whole or because he needs hugs and public accolade. It used to be a much more even 4-4-1, with the 1 being the all-important Sandra Day O'Connor vote. Under that system we had landmark decisions like Casey (preserving Roe v. Wade) and others that were more liberal, as well as more conservative ones. When she retired (and Rehnquist died) under George W. Bush we had them replaced with Alito and Roberts.
Picture, as a liberal, every Supreme Court decision you currently hate. Every one Bernie Sanders and Hillary Clinton rail against, and you've donated money to them to help overturn. Heller (guns), McDonald (guns), Citizens United (money in voting), Hobby Lobby (religious health care exceptions), Shelby County (voting rights), Fisher (affirmative action)…all of these tent poles have been under the 5-4 established since the retirement and death. For all that Kennedy or Roberts have swung for Gay Marriage and ObamaCare (respectively), the last ten years of SCOTUS jurisprudence have been overwhelmingly conservative victories.
Imagine what they could do with a solid 6-3. Or an un-assaultable 7-2.
Imagine the kind of person that Ted Cruz, Donald Trump, or Ben Carson would put on to the Supreme Court.
John Roberts has been a disappointment to a lot of people in the GOP because he has upheld ObamaCare on multiple occasions, and beyond that he is genuinely a man of thought. Alito, on the other hand, has never met an execution he didn't support or an expansion of executive power he wasn't in love with (except for Obama's, of course). He is a more amiable Thomas.
The person that Cruz, Trump, or Carson would appoint to the SCOTUS would be so far to the right they would make Thomas and Alito look like Hillary Clinton supporters, and make John Roberts look like Bernie Sanders. He'd make Atilla the Hun look like a moderate centrist. And then they'd find not just one of those people, but a second one. And I guarantee you, if there are two of them, President Cruz can find a third and fourth he will happily stick in black robes and sit on the Supreme Court for decades.
We hear people talking about overturning Roe v. Wade all the time now, and as young(ish) liberals we take it for granted this won't happen. But that's because we ignore how breathtakingly lucky we have been in keeping Roe alive. Roe barely survived Casey, which only survived because of an incredibly unlikely coalition between three Justices to write an opinion preserving the core of Roe. Since then the central holding of Casey has barely held out, under assault from all sides, largely only because Kennedy hasn't vacillated too much—but he's come close.
And one of the people who helped write strategies to overturn Roe? Rafael Edward "Ted" Cruz. One of the people who has promised to overturn gay marriage by appointing Justices who would do so? Donald Trump.
The next President will have a chance to alter the tone and leaning of American jurisprudence for at least years, if not decades. To be a liberal and say that because you don't like Hillary Clinton, or don't like Bernie Sanders, and be willing to give the GOP the power to make those appointments isn't just not "strategically" voting. It is to bloviate in wallowing self-righteousness, to send the country down a path so far to the right none of us will even recognize the court anymore for the sole purpose of smug ideological purity.
It is selfishness, it is short-sightedness, and it is stupidity. To do it with the thought that the GOP's candidate couldn't possibly hold it for more than four years, as a recent article suggested, is to give up the only game in town that actually matters. Because in four years there is every likelihood that two Justices will have been passed by a GOP majority Congress, and that's the ballgame.
So let me not mince words. If you put either Clinton or Sanders as being more important than the cause, you aren't a real Liberal. You aren't a real Progressive, or even a real Democratic Socialist. You are at best a poser, a member of a cult of personality built up and a faux progressive. At worst you are actively undermining the cause and dooming the things you claim to care for to damnation for a decade. You are setting back our country, for the sake of a single person rather than all of our people.
Because the GOP knows what the game is about. It was what the movers and shakers in 2000 wanted, by their own admission. It is what they want now. It is what is already recognized as the true legacy of the George W. Bush presidency (see, e.g., http://abcnews.go.com/TheLaw/BushLegacy/story?id=6597342). And it is you, oh arm-chair general of the progressive cause, oh you sultan of smug self-satisfaction at your own unassailable purity of thought, who will absolutely hand it right to them if you do it.
So be passionate. Caucus, vote in primaries, and get out for the person you believe in. But let me say in no uncertain terms: If you want to give the GOP the Supreme Court for another decade because you care more about one person than the issues you claim to believe in, you have no place taking the labels of progressive or liberal for yourself—because you will be the bell ringer of the death knell of those causes in the only actual battlefield being decided in this election.