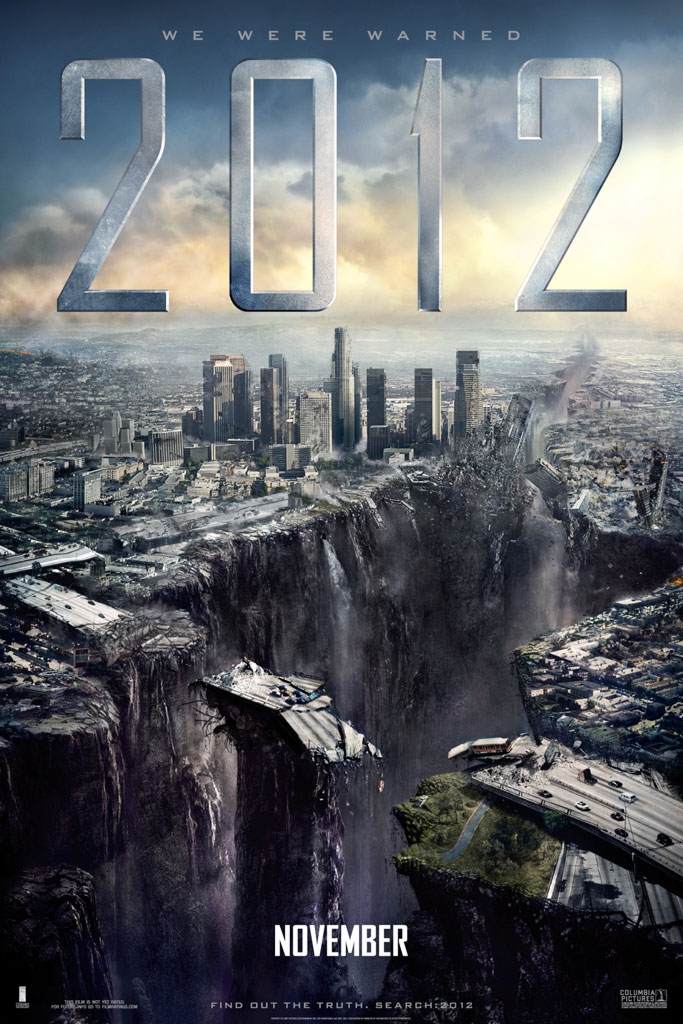 2012: A Film Considered
Or, Who Builds Society?
Or, Spoilers: The world ends.
2012 was never going to be a good movie, because disaster movies have a very thin line to tread between compelling and stupid-tastic and Roland Emmerich has never been that subtle.  But I will admit that watching it on January 5th, 2014 gives it a retroactive amusement.
I'm not going to talk here about all the problems with the movie, although there are myriad.  I never believed in the 2012 phenomenon so I always knew that angle was bunk, and don't get me wrong: There are lots of other problems here.  Danny Glover, Chiwetel Ejiofor, and Oliver Platt are all better than this movie deserves; the special effects have not aged well; and the movie seems to believe that planes run on "wanting them to fly really hard."
But all of that has been said before, and while true I don't feel like just piling on.  But what really struck me about the movie is this: How is society going to survive?
In the face of complete global catastrophe a plan is put forward in the film: Giant boats.  And on these giant boats they plan to put 400,000 people they have selected to rebuild human civilization, plus a number of rich business types they auction seats to at one billion euros a pop.  These 400,000 people are scientists, leaders, and other influential architects of society presumably.  The movie doesn't go into it too much, but that seems to be who is getting contacted and that fits with the tropes of this kind of movie—even if 2012 doesn't specify, we can look at Deep Impact and see how it is normally handled.  (Edit: In the movie they specifically say the free tickets were chosen by geneticists for the best gene pool, and they all seem to be the academic type–and our heroes are specifically called out as fools for asking if the workers got to be saved.  "The world isn't fair? *gasp* If you want to give up your ticket for a couple of Chinese workers, be my guest!"  Right…why would you want to save the people with the technical knowledge to build giant boats for half a million people in four years?)
And on the surface that seems to be a good plan!  Bring the people who can rebuild civilization, who know how to guide a people to self sufficiency and remake what we lost.  And most movies throw in a sop to the creative types as well, as in 2012 where art from the Hermitage and British Museum and Louvre is preserved.  And that seems to track as well, bringing the culture of a destroyed world to inspire the minds of a new one.
But…you know what's missing?  The world of 2012, or the world of Deep Impact, are going to have lots of people who know how to rebuild a society.  But how many of those people know how to build a society the first time?  Do we think any of them know how to wire a house, or connect plumbing to a toilet?
All the grand economic plans in the world aren't going to mean crap when you're swimming in, well, crap.  Macroeconomics are great, but if there is nobody who can build your shelters then all the plans in the world are just kindling for the fire.  I'd rather be on a boat with 200,000 dreamers and planners and 200,000 electricians, plumbers, and construction workers than a boat stocked with one or the other.  And if I had to choose, I'd rather be on the boat with 400k blue collar people.  Governments and societies will form themselves with time, but the toilets are not going to plumb themselves.